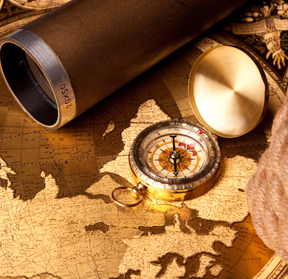 The St. Augustine Port, Waterway, and Beach District was originally established in the late 1930's to fulfill the requirement of local sponsor for the Army Corps of Engineer's St. Augustine Inlet project. The District was enabled by the Florida Legislature and subsequently approved by referendum vote of the citizens residing within the District boundaries. Over the years, the District has come to be known locally as the "Port Authority" or the "Port District".
Five at-large elected commissioners govern the District, each serving four-year terms. Until 1998, all commissioners stood for election at the same time. At that time, the District's commissioners voted to stagger election dates, with two commissioners elected for four-year terms in one election year and three commissioners elected for four-year terms the next election year.The enabling legislation gave the District ad valorem taxing authority as well as a broad range of authority for building warehouses, wharfs, bridges, and other structures for the commercial development of the port.
Oddly enough, the District was even given the authority to build airports. The District has title to a number of submerged parcels mostly in and around the St. Augustine harbor area. The District has no full time support staff, but employs the services of an engineering firm, a legal firm, an accounting firm and a secretarial service. The original boundaries of the District encompassed then what was the major population base of St. Johns County. The boundaries have not changed despite major changes and shifts in the location of that population base. Over the years, the District has obviously chosen not to exercise many of the authorities granted to it in the enabling legislation.
It can be fairly said that the district had been relatively inactive until the early 1990's, as up to that point it concerned itself mainly with issues involving the maintenance of the St. Augustine Inlet. At that time the District started utilizing the services of Taylor Engineering, a well regarded coastal engineering firm. With the help of Taylor Engineering, the District established a Master Plan in 1993 which was subsequently revised and updated in 2004.
The Plan identified a number of other areas in which the District should be involved. Since 1990's, the District has become active in a number of important local maritime issues, among them: the removal of derelict boats, boat ramp feasibility studies, offshore artificial reefs, producing a navigational guide to St. Augustine Waterways, installation and maintenance of channel markers in Salt Run, providing funds for harbor patrol, a comprehensive Inlet Management Plan, boat mooring issues, initial studies identifying problems with the Matanzas Bay seawall, and the repair of the St. Augustine Lighthouse lens.